Standard- or tailor-made solutions
HECHT systems fulfil multiple tasks within the in-house transfer of raw materials at the highest level. We offer various standard solutions for all process steps that can be combined in many ways and easily be adapted to different requirement profiles. The result: An almost unlimited number of special purpose machinery for custom tailored product specifications. Whether it is filling- or discharging system for drums, containers or pneumatic conveyors, dosing- or weighing vessels - Most likely we already have the ideal solution for you!
Mostly the little details make the big difference. Many systems only reveal their full performance capability after integrating the suitable accessories. It is possible to revive even outdated versions from different manufacturers with HECHT components and restore them to their former glory. In order to further optimize the handling of bulk solids we offer components such as suction units, screw conveyors, scale compensators, connection systems with tensioning devices for FIBCs, endless-liner-packages and our High-Containment-Closing-System as a special advantage.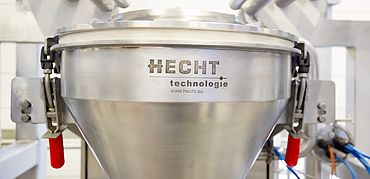 Modular- or Single Solutions
Filling, Discharging, Dosing or Conveying: HECHT systems are based on a modular design. Every component and every standardized assembly has been developed for stand-alone applications and can easily be integrated in your existing processes. Here is a typical example: HECHT FIBC discharging stations are individually designed for a variety of uses and can for instance be expanded with tracks, as gantry units, for feeding with forklifts and so on. Frequently our systems represent the ideal connection of value-adding production machinery and build the heart of the production process.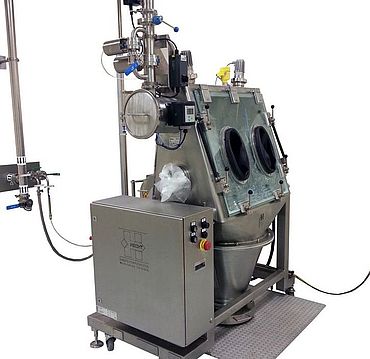 Ready-to-use Allround Solutions
Our solutions cover the complete production process. HECHT's experienced engineers plan your in-house raw materials supply in a sophisticated thought-out way and are in constant touch with our clients and contracting authorities. At the same time, we are able to integrate value-adding machinery like blenders into our scope of supply. All our customers can expect ready-to-use customized systems that impress through innovative spirit, quality, efficiency and safety. Ranging from the manufacture of diluents, enzyme production or manufacture of baby food: We care.