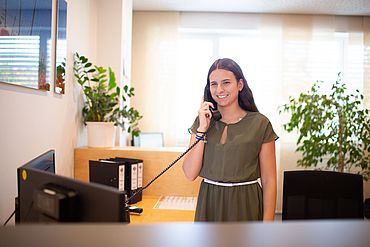 "Every day I am looking forward to getting up and to gain experience in a motivated and helpful environment." Are you enthusiastic, creative and enjoy learning? Then it can start with us. Trainees get an insight into a wide range of areas at HECHT and pass through a fine-tuned training plan through the various departments – From accounting, administration, the purchase, after sales or human resources to distribution and marketing. A colorful mix of tasks is guaranteed. After a short time, you take on responsibility and actively shape the everyday life of HECHT. For a long time, it has been a tradition to promote young and committed personalities and to train them in office management – with best takeover chances!
Whereas Marketing used to be a part of the sales department it has over the years developed into an independant division at HECHT Technologie. Not only the typical marketing tasks are being taken care of here but especially when it comes to mechanical engineering, product marketing can sometimes be a great challenge.
"Due to the frequently changing tasks and the comprehensive projects that we handle, every day is special. Intensive contact with our co-workers and the different departments is what makes our daily business so versatile."Our department does not only take care of the daily recurring tasks but is responsible for internal and external sales support, public relations and planning of trade shows and various events. "A certain amount of organizational skills, creativity and openness for new ideas is what you definitely need when working in marketing. Our goal: Independant work efforts and the chance to be actively involved in the projects in order to help to grow the company and contribute to its increasing success."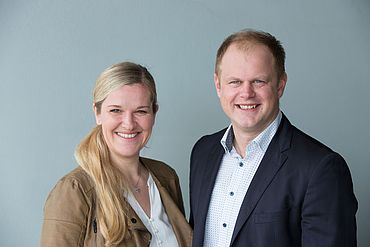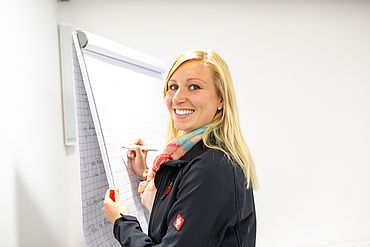 Sabrina Rosin has been "swimming" in the "HECHT pond" since March 2019 and supports our After Sales department as a clerk. Through our cinema spot she became aware of our company and felt immediately addressed. Ms. Rosin is responsible for the preparation of quotations and the processing of customer orders. Furthermore, she monitors the delivery dates of our orders and is always open for customer queries. "The special thing about my daily tasks is the variety of customer inquiries. Every inquiry is different and you sometimes have to "search" for exactly which spare part is needed or request the spare part from our suppliers first. This is where you create a large pool of knowledge for yourself." She particularly appreciates the family atmosphere at HECHT and the friendly, open manner of her colleagues. "It's simply fun to work here. When questions and problems arise, everyone has an open ear for each other and helps out together."
Tatjana Beiz from Pfaffenhofen has been employed in our company since 2007. Due to the very good reputation of our management, the company HECHT has always been a household name for Ms. Beiz. In the construction department she is responsible for the creation of technical drawings as well as for the production documents. In addition to her daily tasks, she supervises our trainees and apprentices. "Working in the design department has been a lot of fun for me from the very beginning. There is also a strong sense of cohesion within the team, both professionally and interpersonally. One can consider oneself very lucky to have a secure job, especially in the current situation, not to mention the informal family-like working atmosphere and the flexible working hours. It's also a great pleasure to watch the company grow and expand."