The slide sampler is specially built to meet the high quality and accuracy requirements of the pharmaceutical, chemical and food industries. The stable mechanics and efficient mechanism make the sampler the first choice when it comes to cost efficiency. This type of sampler is especially used in downpipes, where the product can accumulate on the "sled". Many different variants are conceivable for the sampling vessels. Existing or provided vessels can also be used. Solutions with endless liners are also possible.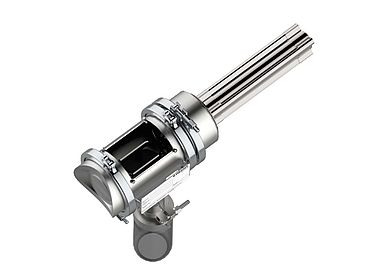 Highest reliability by membrane without feedthroughs
Automatic or manual drive
The sampler moves into the product flow only during the sampling process
Different slide sizes possible
Sampling amount is regulated by time
Great advantage with products that tend to adhere
The sampler first moves from the starting position into the product flow. The simple, ingenious mechanics ensure that the slide sampler is positioned horizontally in the downpipe during moving.

The duration of sampling depends on several factors such as product, product flow, size and shape of the slide and desired sample quantity. If enough product is collected on the U-shaped slide, the slide is retracted again.

When the slide reaches its starting position, the product automatically falls down to the sample outlet into the sample vessel.