Whether for installation in silos or in downpipes – the HECHT screw sampler is the ideal solution for a representative sampling of any kind of bulk material. At individually selectable time intervals, the defined amount of product is sampled either automatically or manually by means of a hand wheel.
A pre-installed self-cleaning function guarantees the validity of the samples. Depending on our customers' requirements, we offer various connections for matching sample vessels as well as different sealing valves.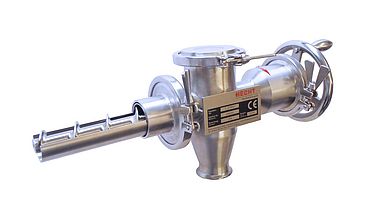 Installation in silos or downpipes possible
Different diameters for screw samplers available
Sample quantities, runtimes and pause times individually adjustable
Automated or manual sampling method
Easy-to-dismantle version for simple cleaning
The sampling screw rotates into the material flow, extracts a representative cross-section from the production flow and transports it into a sample vessel. An adjustable timer determines the sample quantity. Runtimes and pause times between two sampling operations are individually configurable. Before starting a further sampling process, the screw changes to reverse operation for a self-cleaning cycle. The product conveyed during the self-cleaning process is fed back into the production flow. Different systems like stuffing boxes / gland seals or a shaft ring seal ensure a final sealing. To guarantee a considerate and gentle product handling, it is recommended to install a counter-bearing.
Downpipe: The sampler is installed between two flanges inside the downpipe
Silo: The sampler is installed to a nozzle welded to a silo wall
An outlet cover (flap, ball valve or pinch valve) avoids product trickling or dust emission whenever the product vessel is disconnected. Depending on the type of sample vessel HECHT offers various connection systems:
Spring steel wire clamp (for small and light sample quantities)
Quick action clamp (for large and heavier sample quantities)
Thread connections for bottles
HECHT screw samplers can easily be combined with a sampling magazine or a sample collector with endless liner.